ACCESSORIES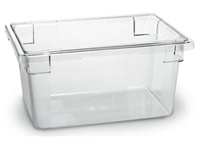 Polycarbonate tank for Immersion Circulators
This standard 18L/4.75 gal. (12"x18"x9") polycarbonate tank is one of the most cost-efficient ways to set up a sous vide bath with a PolyScience immersion circulator.

It can be cleaned in a dishwasher and is good for multi-use purposes. Stacking two tanks provides great insulation and improves efficiency of the Sous Vide Professional at higher cooking temperatures.

PolyScience also offers custom-cut lids for all of our Immersion Circulator models to prevent evaporation and improved insulation.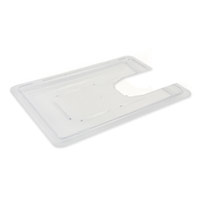 Custom lids for Sous Vide Professional™ CHEF SERIES
This standard lid for Cambro polycarbonate tanks is custom cut to fit the Sous Vide Professional. Using this lid with your cooking tank prevents heat loss and improves efficiency of the Sous Vide Professional at higher cooking temperatures. It also prevents evaporation and low liquid level, which is important for longer cooking times.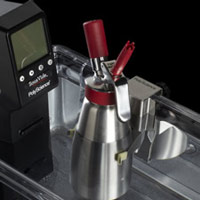 Whip Holder
Keep your sauces and foams at the perfect temperature with these Whip Canister Holders. Designed to clamp on to any tank or pot, these holders are equipped to hold either 1 quart or 1 pint canisters. Sold in set of 2.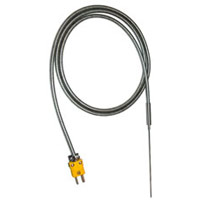 Hypodermic Temperature Probe
This stainless steel needle-like probe minimizes hole size in sous vide bags and easily pierces hard and frozen items.
Type K Connector - Plugs into most commercial-grade digital thermometers.
Rugged Construction - The armored cable, stainless steel probe, and handle are easy to clean and withstand the rigors of even the most demanding commercial kitchen.
Probe dimensions (L x dia.):
4 x .065 in (101.6 x 1.65 mm)
Armored cable length:
4 ft (1.2 m)
Temperature range:
-418° to 700°F (-250° to 371°C)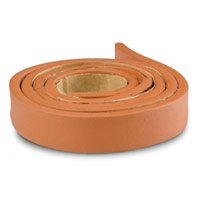 Foam Tape
Seals punctures made when inserting hypodermic temperature probe into sous vide bag.
Supplied in roll 0.75 inch (1.9mm) wide by 3-ft. (.91 meter) long.
Cut into 0.5 inch (13 mm) strips before use..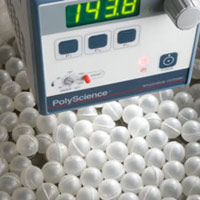 Insulating Polypropylene Ball Blanket
Minimze heat loss and evaporation with these hollow floating balls. Bag of 400.
Ball diameter:
0.78 inch (20 mm)
Sous Vide ProfessionalTM Chef Series Kit

Achieve perfect, repeatable results every time
The Sous Vide Cooking Kit includes is the most popular set up for any chef that wants to rely on the same set up as in the world's best restaurants. It has received multiple awards for its design and innovative technology features, including Starchefs Innovation and Technology Award in 2010.
The Sous Vide Professional sets the standard for Sous Vide cooking. It was developed with chefs in mind.
Precise temperature control within 1/10th of a degree
Water circulation provides maximum consistency (compared to non-stirred devices)
Compact design makes for easy storage
Clamp the Sous Vide Professional™ to any size tank with rounded or flat walls up to 30 liters
Patent-pending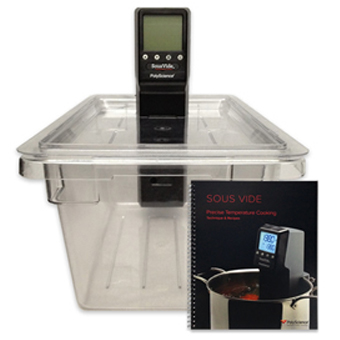 This Sous Vide Professional™ CHEF SERIES kit features:
Protective Travel & Storage Case
"Sous Vide & Precise Temperature Cooking - Technique & Recipes", including a temperature reference table
ETL commercial approval
ETL sanitation approval
18 liter / 4.7 gallon clear polycarbonate Cambro cooking tank
custom-fit lid designed to keep heat and steam in the cooking tank
MORE INFORMATION
Package includes:
Sous Vide Professional controller
DuraTop™ lid, mounting bridge & mounting ring set
18L polycarbonate tank
Sous Vide Cooking Guide
PERFORMANCE
Maximum Temperature: 210°F (99°C)
Temperature Stability: 0.1°C
Pressure Flow Rate (max): 6 Liter per Minute
Heater Output: 1100 Watts / 3753 BTU
OPERATION
Display Type: large backlid LCD
Menu Language & Prompts: English
Minimum Immersion Depth: 3.375 in / 8.57 cm
SAFETY
Over Temperature Protection: yes
Low Liquid Level Safety: yes
WEIGHT & DIMENSIONS
Polycarbonate Tank and lid specifications
Reservoir Size: 18 L
Maximum Temperature: 210 °F / 99 °C
Overall Dimensions (L x W x D): 18 x 12 x 9 in / 45.7 x 30.5 x 22.9 cm