ACCESSORIES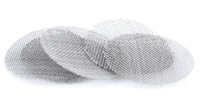 Mouth Filter
You may prevent the reduction on the flavour caused by the soot with using of the spare filters. By using the spare filters, you may keep stable the quality of flavour that you want to reach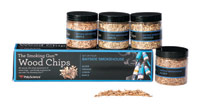 Fruit Orchard
Each fruit wood lends unique and subtle undertones.
(Peach, Nectarine, Apricot, Pear)

Peach, Nectarine & Apricot: Mild and sweet, these orchard favorites are great for use with poultry, fish and shellfish.

Pear:Slightly sweet, with a subtle woodsy flavor. Best with poultry, game and birds.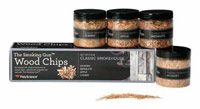 Classic Smokehouse
Enrich your food with irresistible open-fire flavors to any food that usually wouldn't be smoked.

Hickory & Mesquite: Strong and earthy flavors for rich foods like beef, pork and vegetables.

Apple & Cherry: Slightly sweet, fruity flavor for delicate meats. Pairs very well with whipped butter and cocktails.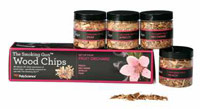 Bayside Smokehouse
Pair mild, tangy and fruity flavors with your favorite fruits of the sea.

Alder, Orange, Lemon, Maple

Alder: Very delicate with natural sweetness. A favorite for salmon, halibut and oysters.

Orange & Lemon: Mellow and smooth with a hint of citrus tang and fruitiness. Pairs beautifully with shellfish.

Maple: Sweet and mild aroma, excellent for trout and salmon.
The Smoking GunTM

The perfect addition to your kitchen or bar
The Smoking Gun™ is a handheld food smoker. Finish quickly foods with natural cool smoke that you would usually not be able to smoke: butter, oysters, cocktails, salads, chocolate, meringue, etc.
Create classic flavors with PolyScience wood chips, such as hickory, applewood, mesquite and cherry, or expand your culinary creativity by smoking with flavors like teas, spices, and dried flowers.
One-piece, removable anodized aluminum smoking chamber
Heavy-duty metal blower fan - will not melt when heated
Efficient, low-noise motor
Excellent for finishing products that are cooked SousVide or other methods where food is not normally directly exposed to fire or smoke
Runs on 4 AA batteries (included)
Includes two 1/2oz sample jars of PolyScience Hickory and Applewood Smoking Sawdust
More Information
You can add smokey flavor and aroma by using various techniques.
Smoking table-side under a glass
Smoking solid foods in container or bags
Aerate smoke into liquids in blender or shaker
"I used the Smoking Gun for a dinner that was held outside where I cooked live for 24 guests. I decided to do a dish with Kona Kampachi smoked under glass. The night was a great success because of the Smoking Gun and the amazing presentation it allowed me to do."
- Don Schoenburg, The Lido Deck Restaurant